Posts Tagged 'controller'
Feb 27, 2012 Rain Barrel
This is the (current) controller design.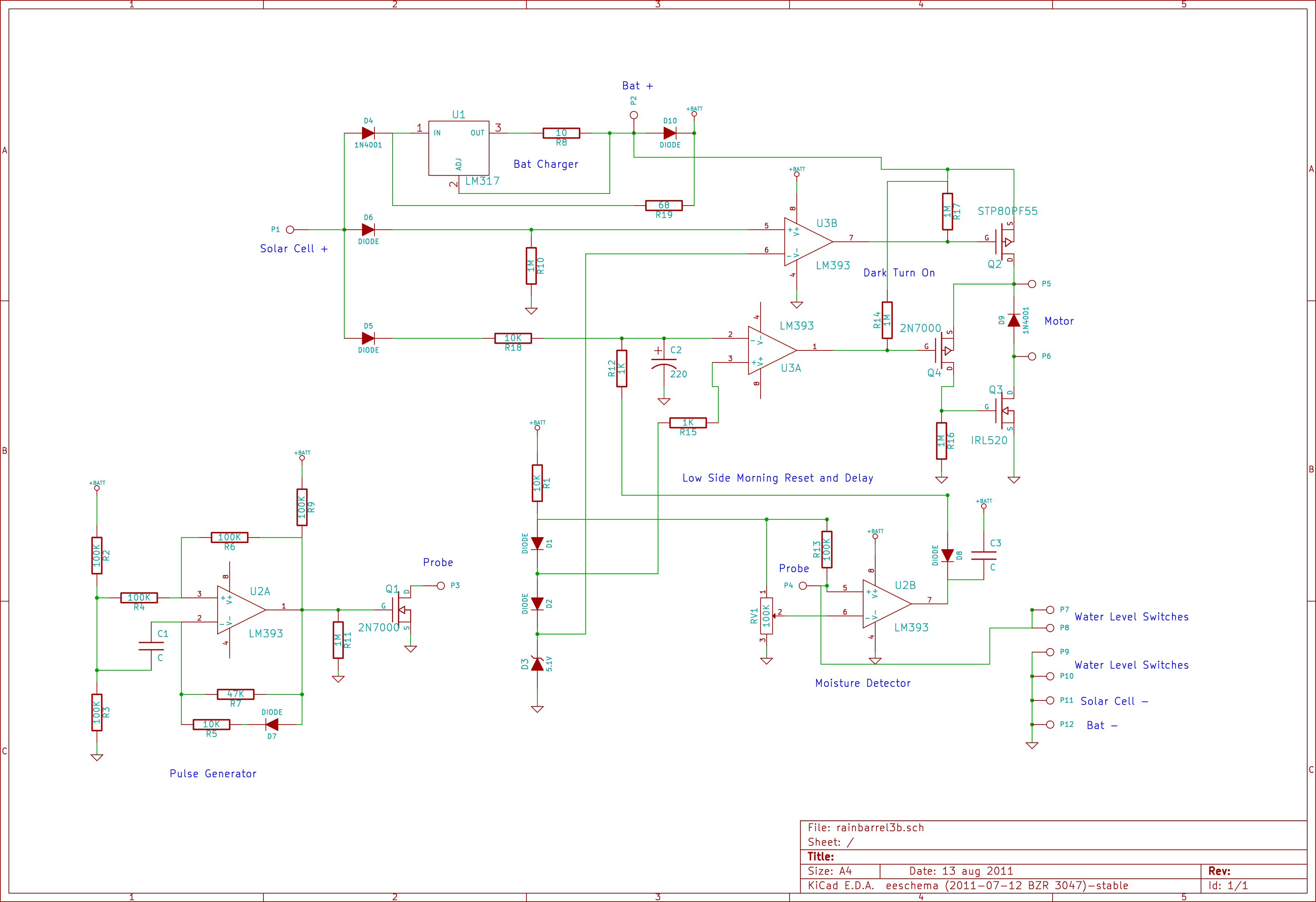 It is very crude and has not been truly "engineered", but I kept adding bits and trying values until it did what I wanted. Most of the values were chosen from what I had on hand and drove the design.
The circuit accomplishes 3 main functions.
First: Charge the battery with the solar cell.
Second: Turn on the pump at night, run to a set level of water, turn off and not run again until the next night.
Third: Use a moisture probe to prevent running if the ground is wet enough.
The solar cell is used as a light sensor as well as a power source.
Power from the solar cell is fed to a LM317 in a current source mode to supply approximately 125 mA to the 9.6V 1600mAH NiMH battery pack. This provides slightly less than a 10% charge rate based on 10 hours of full sun a day. According to most sources I found, this reasonable charge rate without over charging, since it is time limited by the amount of sun each day and not constant. R19 provides power to supply the electronics while the sun is out, and D10 when dark and running solely from battery.
Tags: controller, electronics, rain barrel
Mar 7, 2011 Rain Barrel
I think I now have a working control for the rain barrel, with a moisture probe. This will prevent watering if the ground is already wet. I have a new PC board made and tested and just waiting for the weather to break a bit to get the barrel hooked up to test it. If all goes well I will add the design info to the rain barrel page soon. The whole control is pretty basic with only one adjustment for the probe so it should be cheap and reliable. Just don't expect any bells and whistles.
Number of View :1917
Tags: controller, electronics, rain barrel
Feb 7, 2011 Rain Barrel
We have a small garden out by our shed. It is not very big, sort of a "Square Foot Garden". Just enough for some tomatoes, a cucumber and a few other plants. Of course one big key to a good garden is consistent watering, and of course I am a bit lazy and not very consistent. I wanted something to do it for me automatically.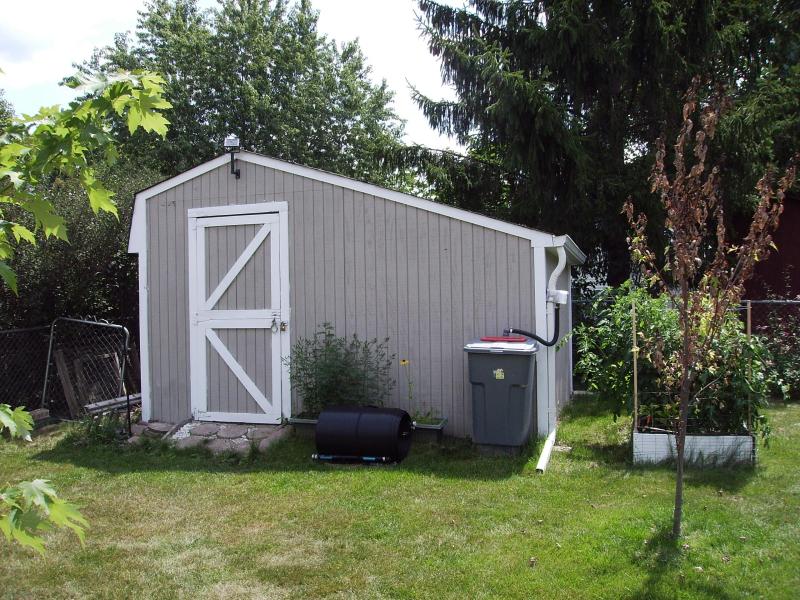 The shed is about 50′ from the house, not far, but far enough to have to drag out a big hose. Living in a cold climate, the obvious solution do not work well here. I could not simply bury a hose without worrying about draining it so it will not freeze. I also did not want to bury any wire for automation either. I needed something that would stand alone, self power and supply water.


I decided on a rain barrel to attach to my shed. I simply used a 50 gallon trash can. I am not using the water for direct consumption, only irrigation. The first one was a heavy duty one some one had thrown away. (You can only use 35 gallon max for garbage here, so I could not use it for that) I lined it with a heavy 55 gallon "contractors" bag to keep the water clean and so it could be replace for easy cleaning. To hook it up to the gutter on the shed I made my own diverter/screen. (More on that later) The roof is about 10′x15′ and can fill the barrel with a moderate rain fall.
Tags: controller, electronics, rain barrel